Walkathon and beach barbecue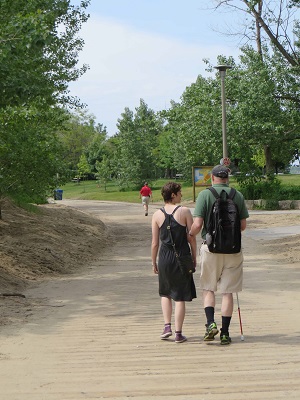 The CCB Toronto Visionaries, in collaboration with our sister GTA chapters of the Canadian Council of the Blind, are holding a 5 km walkathon along the Woodbine Beach boardwalk. This event will raise funds in support of programs and activities that enrich the lives of those living with vision-loss in Toronto, and to help our members stay active and engaged. This is a "walk-what-you-can" event, so that anyone of any ability can participate.
CCB members will be securing donations for any distance up to 5 km, with 100% of proceeds going directly to benefit CCB members across the GTA.
Watch Accessible Media (AMI)'s profile of our 2018 walk.
About the walk
We will be walking along the Beaches boardwalk, a linear trail composed of wooden planks along the shore of Lake Ontario. The starting point for the walk will be the Woodbine Beach Picnic Area #1 picnic pavilion. The picnic area is right next to the Ashbriddges Bay TTC bus loop, which is the last stop on the Woodbine 92 south bus route, south of Queen Street East. It's at the south-east corner of Northern Dancer Boulevard and Lakeshore. (see map)
Date: Sunday, June 26, 2022
Location: Woodbine Beach Picnic Area #1 picnic pavilion
Time: Gather at 10:30am. The walk starts at 11:00am, sharp.
The walk ends back at the Woodbine Beach Picnic Area #1 picnic pavilion, where we'll be holding a Beach BBQ for all those who participated and for those who came out to cheer us on! All the food for the BBQ donated by our generous sponsors, Bloor Meat Market and Nicholson's No Frills.
To join us
To participate as a walker, download a detailed information sheet and pledge form.
You can also support the CCB Toronto Visionaries chapter's activities and programs by making a donation. Just click the Support our vision link on the sidebar menu.